Tuesday, March 7, 2017  7 P.M.
Today's GFS is predicting a nice snowfall Saturday night (see below).  Of course, a lot can, and will, happen between now and then.  But it is exciting to at least have the thought that we still could have a good snow before the season ends.  Unfortunately, the GFS stands alone at this time…the European model keeps the chance for significant snow north of us.
Meanwhile, here's the GFS's snow forecast for the 24-hour forecast ending at 7 A.M. Sunday: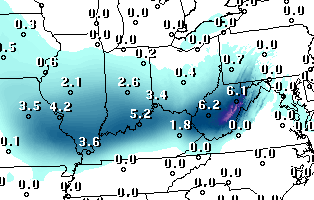 Think snow!
Stuff
Streetside parking meters are illegal in the state of North Dakota.
Charity begins in the home…in this case.  An 87 year old preacher and his wife run an on-line ministry as a "non-profit" organization.  Last year they reported a net income for the website of 7 million dollars.  Their combined salaries added up to $4 million.  That reminds me of the old joke about what to do with the offering plate each Sunday.  "i take the plate, throw it up in the air.  God takes his share and whatever falls back down is mine."  Only is this case, it's not a joke!