Thursday Afternoon (Mar 5)
"Oh, what a beautiful morning; oh, what a beautiful day."   (from "Oklahoma")
Just about the only thing that makes me feel better after such a poor forecast is the ability to really enjoy what nature has provided for us.  Those of you who take a more negative view of snow, don't worry.  March sunshine can eat up snow in a big hurry.
So, now the weather attention turns to the cold air/snow cover combination which can sometimes lead to some extremely cold temperatures.  In a similar situation to a few weeks ago, the NWS is predicting some really cold readings for tomorrow morning (-5 to -10).  Forecast model guidance is once again significantly warmer than the forecast ( 13,10 and 4 deg) are their most recent forecasts.  True, conditions look good, but this air mass is not as cold as that one was.  If skies clear for most of the night, as is expected , near zero lows are likely, but -10 appears unlikely except in some rural areas.  I'll stick with a low of 3.
If skies clear this evening…
Tonight is the night of the mini moon.  Each year we hear of the giant or super moon when the Earth-Moon distance is the smallest of the year.  But, if there is a Super Moon, there must be an opposite full moon when the Earth-Moon distance is the greatest.  That's called the mini Moon – when the full moon is smaller and dimmer than any other full moon of the year.  Tonight's the night.  Look east around sunset if the clouds are gone.  See if you can tell the difference from other full moons.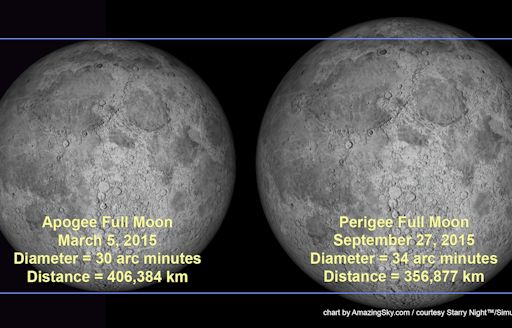 image from Alan Dyer of Silver City NM