Tuesday, Jan.9,2018  3 P.M.
GFS points to snow Friday night!
Here's the latest prediction from the GFS 2.5 km model: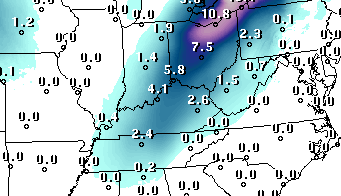 Looks exciting, doesn't it?  But don't get too excited yet.  This prediction is definitely an outlier, at least so far.  The GFS ensemble shows(a group of GFS models run under slightly different starting conditions) shows a wide range of possible solutions for this future storm.  The Euro and Canadian models also are much lower with their forecasts.  But, it'll fun to see how it develops this week.