Tuesday Afternoon
It's back!  The pleasant, mild, dry days of August.  Now there's a statement you don't here too often.  But, this summer has produced an abundance of them with at least two more to go in this current sequence.  Clear, cool nights should produce nighttime lows in the lower 60's (upper 50's rural areas) while daytime highs return to the upper 70's tomorrow then slowly warm into the 80's Thu/Fri.  A situation somewhat similar to the one we had this past weekend appears to be shaping up in the longer range guidance – we'll just have to wait and see.
Super Moon among the missing.
Thanks to the clouds and showers most of the lower Ohio Valley didn't get a chance to view this year's "Super Moon."  Super moon is the name given to the full moon that occurs when the Earth-Moon distance is the least of the year.  The distance between Earth and Moon varies because the Moon revolves around us in a slightly elliptical orbit.  The super moon can be as much as 14% larger and normal full moons and up to 30% brighter.  The photos below are from www.spaceweather.com.   The comparison was made by Vese Vauhkonen of Finland.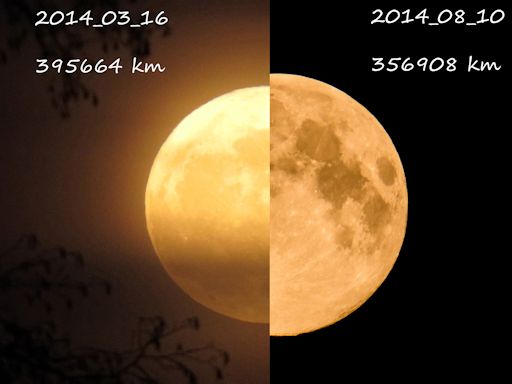 The super moon was roughly 50,000 km (about 30,000 mi) closer to Earth than the picture on the left.