Thursday afternoon
A line of light showers moving through the afternoon won't last very long.  We seem to find ourselves in the wrong spot at the wrong time situation.  A look at the satellite image below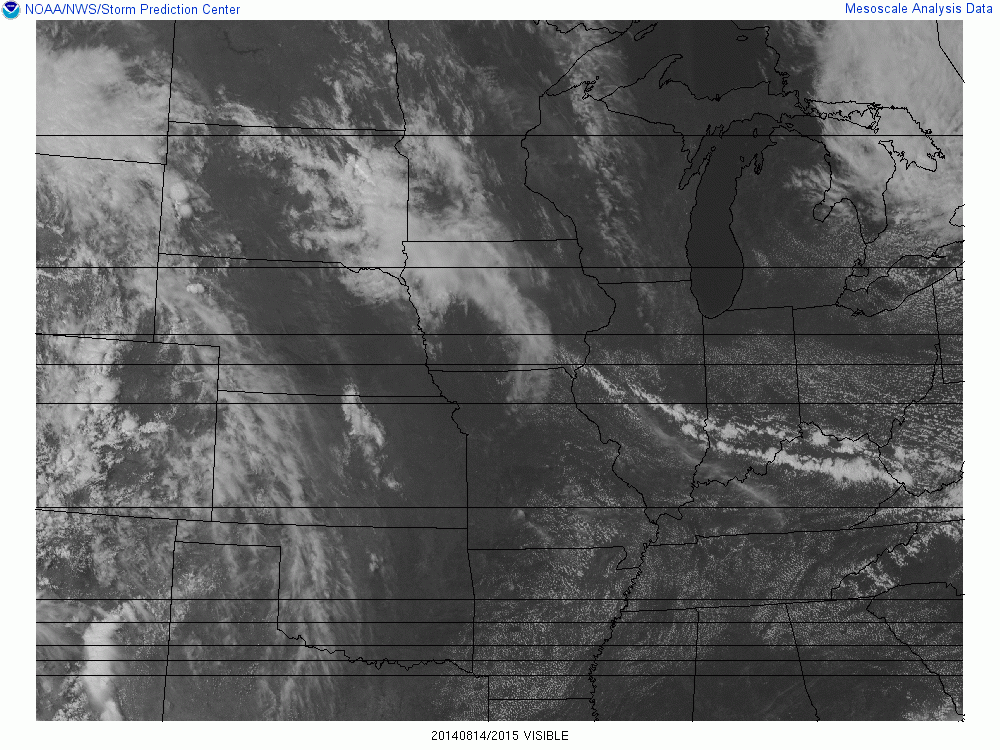 shows two lines of clouds with light showers being produced by a weak cold front pushing southward.  These showers will fade before sundown, but the cooler air will reinforce the pleasant, dry air mass we've been enjoying.  (By the way, good call by the National Weather Service to add in that chance for showers this afternoon.
If you look to the upper-center( Iowa, Minnesota and South Dakota) of the image you will see the classic satellite view of an upper level disturbance.  This one will drop slowly southeast and bring us increasing cloudiness by late tomorrow.  As the system crosses north of us on Saturday, we'll see a lot of clouds (with a small chance for some light showers) early in the day, The primary effect this system will have on us will be to bring in much higher humidity.  Then, as skies clear Saturday afternoon, We'll really know that summer's definitely not finished.  Once the humidity  is in place all we have to do is wait.  A few more of those upper air disturbances are expected to follow the one on the satellite image above.  Some periods of showers/thunderstorms should become more likely, perhaps early Sunday, but a better chance late Sunday and Monday.
Changes coming from the Storm Prediction Center
For years we've been receiving "Severe Storm Outlooks" from the Storm Prediction Center with three familiar categories – Slight Risk, Moderate Risk and High Risk.  These Convective Outlooks, as they are officially known, appear as maps showing locations where the forecasters expected the possibility for thunderstorms that day and pinpoint areas where they believe severe storms are possible.  The slight, moderate and high risk delineate areas based on the expectations where the most widespread and intense severe storms will be located.
That system will end October 22.  The types of outlooks will grow to five with the addition of "marginal" and "enhanced".  It is very hard for a forecaster to just draw a line separating expected non-severe and severe regions.  It's my belief that most of the time, SPC forecasters use the "better safe than sorry" philosophy.  As a result, I believe that in general practice the daily "Slight Risk" category is considerably larger than it should be.  So, I'm happy to see the addition of the Marginal Risk category.  This should eliminate the problems with the lower end of the storm spectrum and ease the worry many people have when they hear "Slight Risk" in the morning.
The "Enhanced Risk"  category covers the border between Slight and Moderate, also a   confusing boundary.  The jump from slight to moderate currently means higher areal coverage AND more numerous and intense storms (over a 10,000 square mile area, say).  Nature doesn't always cooperate, however, especially when you have two specific criteria to satisfy.  For instance, suppose the area to be hit exceeds the "slight" criteria, but the storms aren't expected to exceed low-level severe?  Or, vice-versa?   Enter "Enhanced Risk" for that "fuzzy"  zone.  Here's an example of what it will look like.