Monday afternoon
Cool high pressure dominates the weather scene for now.  However, the high drifts eastward tomorrow far enough to allow southerly winds to begin a warming trend as highs return to the mid 80's after a cool night tonight.  Hopes that late last week's highs in the low 90's would be our last of the year should be dashed by Wednesday as stronger southerly winds should push us to 90 or higher, but at least the humidity will be lower.  Both tomorrow and Wednesday should be generally sunny.
The next big change will begin Wednesday night as a cold front arrives.  Current thought is that the front should bring some showers and possible thunderstorms late Wed. night into Thursday morning.   The government's "precip predictors" are forecasting this to be a significant rain-maker – 1″ or more for southern Indiana and most of KY.  My thoughts are that this system is very similar to last week's Fri/Sat system that really fizzled out.  True, this time the cold front is stronger, but there's just not enough moisture expected to squeeze out  a large area of 1″+ rain amounts.
The cold air mass is already pushing southward along the front range of the Rockies in Montana and will push wintry air as far south as Colorado as the week wears on.  Don't be surprised if you hear about snows in Montana, Wyoming and possibly even as far south as Colorado this week.  As the cold air moves eastward it will thin and absorb heat from the warm soil.  So it won't be nearly as cold when it arrives here.
Harvest Moon tonight
Last month we missed out on the chance to see the year's biggest full moon due to clouds obscuring the view.  But this month we will get to see the most famous full moon – the Harvest Moon.  Look east right about 8 P.M. to see it rise in its full glory.  Our sky is pretty clean right now, so it will not look as colorful as the picture below, but it'll still be great to see.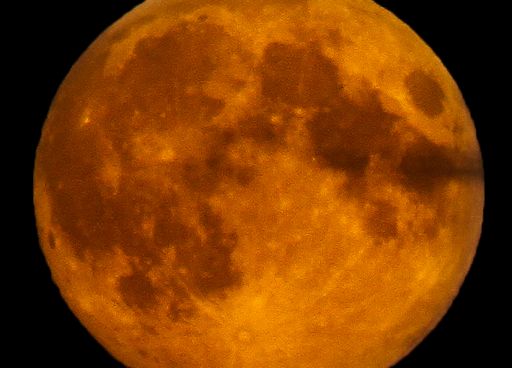 Photo:  Ruslan Merzlyakov  from Denmark.  Courtesy www.spaceweather.com